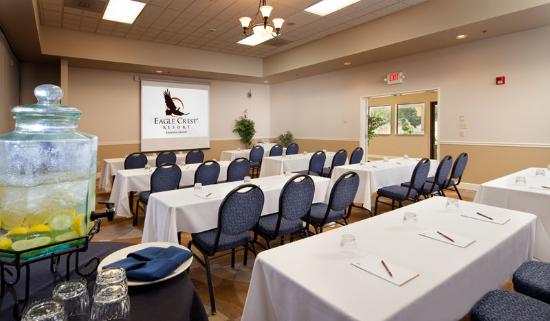 If you're thinking about having a group event in Central Oregon here's why you should choose Eagle Crest
By Lynn Johns
Did you know Eagle Crest was awarded the Platinum Choice Award in 2011 by Smart Meetings? That's right. Eagle Crest is more than just a vacation destination; it's a place where you can plan your next team meeting, reunion or group event especially for the following reasons.
Custom Tailored Recreation
Thanks to the proximity to Central Oregon's best recreation destinations you can either enjoy the amenities at Eagle Crest resort during your stay here or the staff can help you stay active by pointing you to some of the other recreational opportunities in the area which include hiking, mountain climbing, kayaking and so much more.
50 Years Combined Staff Experience
Unlike other resorts in the area the Eagle Crest Staff has close to 50 years of combined hospitality experience and is committed to serving your every need so you can have complete confidence in the fact that your groups every need will be cared for here.
Most Groups Rebook Their Next Event Here
65% of groups who had their 2013 events at Eagle Crest have booked their 2014 events here too and this high percentage of groups who continue to choose Eagle Crest as their destination for group events shows that the Eagle Crest Staff continues to do their best at winning repeat business year by year.
Tons of Space
At Eagle Crest your group will have 11,500 square feet of space and 1,700 acres to move around so it doesn't matter how large your event or group is, they will have plenty of space here.
The Perfect Vacation Destination
Besides being a great place for your next group event Eagle Crest is also a perfect vacation destination because we the resort also has 75 vacation home rentals, 100 fully renovated lodge guestrooms, 3 sports centers, 5 swimming pools and best of all a world class golf course which features 72 awesome holes of golf.

To learn more about Eagle Crest or view homes for sale in the area contact me, Lynn Johns, Principal Broker with Central Oregon Resort Realty by calling me today at (541) 408-2944 or emailing me at lynnjohns@bendbroadband.com.