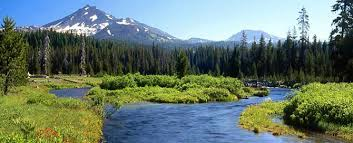 By Lynn Johns
It's an exciting time of year because the weather is getting cooler, snow will be falling soon and there's plenty of Central Oregon Events to keep us busy in the coming weeks.
Bend
10/31 – Trick or Treating at Cascade Village Shopping Center - 4:00 pm: Don't miss the chance to enjoy Halloween with your kids in a safe and family friendly environment.
11/8 – Hoedown for Hunger – 1:00 pm: One of the best events this fall will feature over 20 local bands and awesome musicians playing great folk / jazz music. At the 9th Annual Hoedown for Hunger there will also be a silent auction and all-you-can-eat chili which will be provided by local restaurants.
11/11 – Veterans Day Parade – 11:00 am – Known as Central Oregon's second largest Veteran's Day Parade; this parade is everyone's chance to honor our veterans. There will be lots of fun things to see and do at this parade including marching bands, pipers, drummers and more.
Redmond
11/28 – Redmond Chamber's Holiday Village Market Centennial Park – 11:00 am to 5:00 pm – Come to Centennial Park for Redmond's kick off to the holiday season. The Redmond Holiday Village Market is one of the best Central Oregon Events and it will be the perfect opportunity for you to finish your shopping just in time for Christmas.
Sisters
11/28 and 11/29 – Sisters Holiday Celebration & Parade – This holiday parade is an awesome opportunity for the whole family to enjoy the holiday spirit, visit with Santa Claus and enjoy holiday refreshments. The Sisters Christmas tree lighting is on Friday 11/28 at 5:30 pm while the actual Christmas Parade is on Saturday 11/29 at 2:00 pm.
Learn More about Central Oregon Events
To learn more about upcoming Central Oregon Events or to view homes for sale across the region, contact me, Lynn Johns, Principal Broker with Central Oregon Resort Realty by clicking here to contact me through my website or calling me at (541) 408-2944.