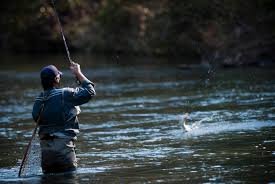 Now is a great time to go fishing in Central Oregon because, the weather is still warm enough during the day for you to enjoy the remaining summer days we have left until fall weather begins.
In this Central Oregon Fishing report I will cover everything you need to know about fishing in Central Oregon.
Weekend fishing opportunities
Where are the best places to fish in Central Oregon this weekend?
* Summer steelhead fishing on the Deschutes continues to be exxcellent from the mouth to Macks Canyon.
* Bass fishing has been excellent in Haystack Reservoir and Lake Billy Chinook. Be sure to get to either location early because both spots are popular with locals this time of year.
* Fall Chinook are beginning to enter the Deschutes River and you can expect their numbers to continue to grow through September.
Fishing Tips
Best Time To Fish - Fish early in the mornings when water temperatures are lower.
Where To Fish - Fish in lakes and reservoirs with deep waters that provide a cooler refuge for fish.
Equipment - Use barbless hooks, land fish quickly and keep them in the water as much as possible in order to minimize stress.
Expert Tip - Shift your fishing efforts to higher elevation mountain lakes and streams like Sparks Lake where water temperatures often remain cool.
Learn More About Homes For Sale In Central Oregon
If you're interested in learning more about homes for sale at Eagle Eagle's Crest or across Central Oregon contact me, Lynn Johns, Principal Broker with Central Oregon Resort Realty by calling me at (541) 408-2944 or by emailing me at lynnjohns@bendbroadband.com.