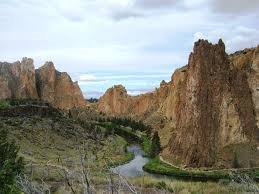 Yes, you can enjoy Central Oregon even while on a budget
By Lynn Johns
Another great thing I love about Central Oregon is the wide variety of recreational activities you can enjoy in the area for little to no money.
In today's post I will break down some of the most popular attractions in the area, including their costs, so you can know what to expect to spend on recreation when you visit the area.
Smith Rock State Park
Located in Redmond, Smith Rock is one of Central Oregon's best attractions, especially for taking pictures, because the natural beauty of this area is unsurpassed in Central Oregon.
You can come to Smith Rock for hiking, biking, walking or for a nice family picnic.
Cost – FREE
Peterson Rock Garden
It's been one of the best attractions in Central Oregon for decades and it still continues to the tickle the imagination when you realize that all of the folk art was built by hand.
This Central Oregon attraction is located at 7930 SW 7th Street in Redmond from 9:00 am to 4:00 pm most days of the week.
Cost - $5 per car
When you leave Peterson Rock Garden don't forget to stop by the famous Shoe Tree right off Highway 97 and have your picture taken at one of Redmond's most notable points of interest.
Juniper Golf Course
One of the best things about vacationing in Central Oregon is that you can golf here for most of the year and there are plenty of affordable golf courses including Juniper Golf Course which is located in the center of Redmond at 1938 SW Elkhorn Ave.
This Central Oregon Golf Course is open daily and offers excellent rates all year long and they have very special rates that you can take advantage of if you plan on golfing before December 1st.
Cost - $50 for 18 holes (average) or less depending on when you golf and if you are a senior citizen or not.
Ready to Buy a Central Oregon Home?
To get started with buying a home in Central Oregon or to learn more about the area's best attractions contact me, Lynn Johns, Principal Broker with Central Oregon Resort Realty by clicking here or calling me at (541) 408-2944.