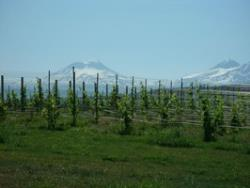 One of the many things I love about Central Oregon is that although on the surface it may seem like one of the top beer destinations in the United States, it's has awesome Central Oregon Wineries and is a top destination for wine lovers from around the world.
In today's post I will cover two of the top wineries in Central Oregon that you can visit to enjoy some wine tasting and so much more.
Faith, Hope and Charity Vineyards
Located at 70450 NW Lower Valley Drive in Terrebonne, Faith, Hope and Charity Vineyards is open for most of the year from noon to 5:00 pm and from noon to 9:00 pm on Thursday and Fridays.
What makes this vineyard really special is that besides regular wine tastings they also have weekly events including live music and they are available for weddings or other private occasions.
To learn more about this vineyard visit their website at http://www.faithhopeandcharityevents.com.
Maragas Winery
As one of the top Central Oregon Wineries Maragas Winery takes pride in being the first winery to establish the Central Oregon Wine Region after they established their winery and partnered with other farms in the area to grow different varieties of grapes in their micro-climates.
Thanks to their hard work Maragas Winery has been able to produce top wines every year including European varieties and many hybrid wines as well.
They are located at 15523 SW Highway 97 in Culver Oregon and are open most nights during the week until 6:00 pm.
Learn More about Central Oregon Wineries
To learn more about the best Central Oregon Wineries or to view homes for sale in Central Oregon contact me, Lynn Johns, Principal Broker with Central Oregon Resort Realty by clicking here to contact me through my website or by calling me at (541) 408-2944.