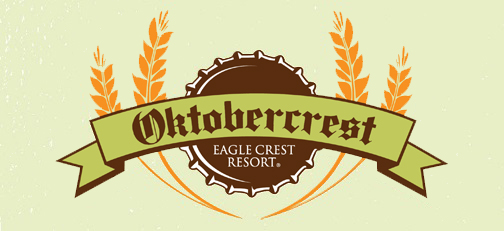 Enjoy The End Of Summer By Celebrating Oktobercrest At Eagle Crest!
By Lynn Johns
EAGLE CREST - It's hard to believe we are already in August and summer is quickly coming to a close but one of the great things about the end of summer is Oktobercrest is right around the corner at Eagle Crest Resort.
This year's Oktobercrest festival will feature will be featuring many vendor tents offering tons of great Central Oregon beers, food vendors, live music and what's best of all is the proceeds from Eagle Crest Oktobercrest 2014 will benefit Habitat for Humanity.
Oktobercrest Location
If you're coming to this year's Oktobercrest it will be located on the soccer fields at Eagle Crest Resort.
Some of the beer on tap you can expect at Oktobercrest 2014 include beer from Silver Moon Brewing, 10 Barrel Brewing Company, Boneyard Beer, Goodlife Brewing Company, Cascade Lakes Brewing Company, Worthy Brewing Company, Sunriver Brewing Company and of course Wild Ride Brewing Company.
$10 pint glasses and $1 tasting tokens.
You can expect to find your favorite ale at Oktobercrest and so much more because, there's going to be a lot of tradition in the air as many people who live in Eagle Crest and from across the United States will be visiting here to enjoy this special event which will have all of the best Oktobercrest traditions which you would expect from this event including new traditions like an Oktobercrest 5K fun run (must be 21 years old) and so much more.
Not In the Mood for Beer?
One of the great things about Oktobercrest 2014 at Eagle Crest is there will most likely be plenty of visitors who don't like beer but prefer wine instead and in this situation the staff at Eagle Crest will be serve win and cider to those guests who don't favor beer as their drink of choice.
Thankfully we will be enjoying cider from Atlas Hard Ciders and the wonderful wine will be from our local Faith, Hope & Charity Vineyards.
History behind Oktoberfest
Oktoberfest is the world's largest funfair held annually in Munich, Bavaria, Germany. It is a 16-day festival running from late September to the first weekend in October with more than 6 million people from around the world attending the event every year. To the locals, it is often simply called Wiesn, after the colloquial name of the fairgrounds (Theresienwiese) themselves. The Oktoberfest is an important part of Bavarian culture, having been held since 1810. Other cities across the world also hold Oktoberfest celebrations, modeled after the original Munich event.
Oktoberfest isn't always held on the first Sunday in October, it's traditionally held between September and October around the world and many festivals like Eagle Crests Oktobercrest feature more than just beer tents, they feature arts & crafts, wiener dog races and even camp sites since traditional Oktoberfest's can last up to 18 days.
To grab some awesome Oktoberfest Beer don't miss the Eagle Crest Oktobercrest Saturday September 13th 2014 from 11:00 am to 9:00 pm.
Interested In Buying Or Selling An Eagle Crest Home?
If you're interested in buying or selling an Eagle Crest Home contact me, Lynn Johns, principal broker with Central Oregon Resort Realty by calling me at (541) 408-2944 or by emailing me at lynnjohns@bendbroadband.com