If you're searching for the perfect Central Oregon Golf Course here's
why you should try Eagle Crest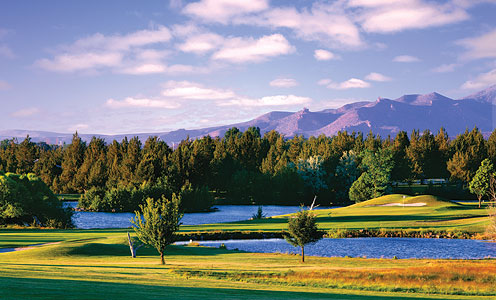 By Lynn Johns
Summer is officially here in Central Oregon and if you love golfing, Eagle Crest is a course you don't want to miss because, the resort offers a variety of courses to choose from including the Ridge, Resort, Putting and Challenge courses.
Something for Everyone
It doesn't matter if you are a new or inexperienced golfer, Eagle Crest offers something for everyone including multiple sets of trees on each course.
Since we enjoy a low elevation here in Central Oregon we can offer you an extended golf season since our Ridge Course stays open during the entire winter.
Drivers Dream at Eagles Crest
The Ridge has been the scene of many great moments in golf history including the Oregon Open back in 2006.
This Central Oregon Golf Course is also known by many people as "drivers dream" because, you can really hit a long ball here while still navigating the finer points of each green on the course.
My favorite hole here at the Ridge is the #3, par 3 hole because besides being a "signature hole" it also offers awesome views of the Cascade Mountains in the background which can make a game of golf here truly awesome.
Don't Miss the Resort Course
The Eagle Crest Resort Course has been a staple of Central Oregon Gold since 1991 when it hosted the High School State championships and it was recently in the news when the 20111 Pacific amateur Golf Classic was played here.
This course is fun and challenging for golfers of every skill level because, the front nine will test a golfers driving ability while the back nine will test their accuracy.
If you start out at the tips this course is 6,704 yards of fun, but make sure you come here prepared with your sunscreen because, there's plenty of sun for you to enjoy during the warm Central Oregon summer months.
To learn more about golfing at Eagle Crest or to view homes for sale in the area contact me, Lynn Johns, by calling me at (541) 408-2944, emailing me at lynnjohns@bendbroadband.com or contacting me through my website.