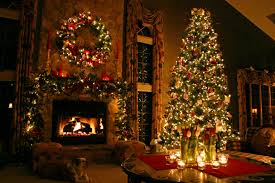 By Lynn Johns
The Holidays are a great time to sell your Central Oregon Home since there will be more people visiting towns like Sisters, Redmond, Bend and Sunriver for the holidays.
Besides holiday travelers who might be thinking about relocating to Central Oregon there will also be plenty of buyers who already live here and are serious about buying homes in the area.
In today's post I will cover 3 tips you can use to stage your Central Oregon Home during the holidays.
Tip 1 – Choose the Right Size Christmas tree
One of the biggest mistakes most homeowners make during the holidays is choosing a Christmas tree which is too big for the space they decide to place it.
Before choosing a Christmas tree you should measure the space in your home where you plan on placing it (from floor to ceiling) just to make sure the tree you ultimately choose will fit when you bring it home.
Tip 2 – Don't Go Overboard With Decorating
We all love Christmas decorations right?
Although decorating is part of Christmas make sure you don't go overboard with Christmas lights and decorations.
You can tastefully decorate your home by thinking about your decorating plan in advance then choose which decorations you plan on using so you can avoid getting caught up in the heat of the moment using every decoration at your disposal.
Tip 3 – Use Holiday Smells to Your Advantage
If you plan on having an open house in the coming days you can use holiday smells to your advantage by baking cookies before home buyers arrive, lighting a fire in your fireplace or making apple cider to make sure guests are greeted with familiar holiday smells and will be able to envision themselves living in your home after they purchase it.
For more tips on how to stage your Central Oregon Home during the holidays or to view homes for sale across the region contact me, Lynn Johns, Principal Broker with Central Oregon Resort Realty by calling me at (541) 408-2944 or click here to contact me through my website.