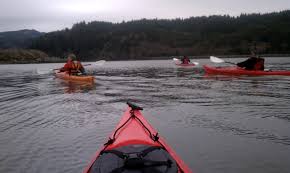 By Lynn Johns
Kayaking Central Oregon is one of the best ways to experience the natural beauty of the area because unlike hiking, rock climbing or mountain biking, kayaking requires minimal effort and it's something you can enjoy for most of the year here.
In today's post I will cover the best kayaking destinations in Central Oregon so you can include kayaking in your next Central Oregon adventure.
Crooked River Canyon
This well-known destination for Kayaking Central Oregon is Crooked River Canyon because it's dam-controlled and that means there isn't always enough water for paddling but when they do release the water, get ready, because, Crooked River Canyon becomes a wild adventure.
Prineville Reservoir
Located just minutes away from Redmond, the Prineville Reservoir offers one of the most beautiful destinations for kayaking, paddle boarding, wind surfing and any outdoor adventure you could want in Central Oregon.
Lake Billy Chinook
3.5 miles of kayaking fun is what you will find at Lake Bill Chinook. Besides excellent kayaking this lake also offers many wonderful sights including fascinating rock / lava formations so be sure to bring your camera if you go kayaking here.
Deschutes River
Known as one of Central Oregon's primary destinations for Kayaking, the Deschutes River offers many miles of fun especially when you go kayaking on the upper Deschutes River.
Sparks Lake
If you're searching for a perfect destination for your whole family Sparks Lake has everything you could want including great conditions for swimming and camping. If you go make sure you get there early because, Sparks Lake can get busy especially during the summer months. The best time of year to visit Sparks Lake is in May or June when the water level is the highest.
Learn More
To learn more about the best destinations for kayaking or to view homes for sale in Eagle Crest contact me, Lynn Johns, Principal Broker with Central Oregon Resort Realty by calling me at (541) 408-2944 or by emailing me at lynnjohns@bendbroadband.com.