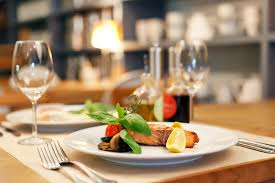 By Lynn Johns
Besides being one of the top destinations in the United States for outdoor recreation, Central Oregon is also a "foodie" paradise because there are many great restaurants to choose from.
In today's post I will cover some of Central Oregon's best restaurants including a few restaurants which might be off the beaten path but are worth the trip for a delicious meal.
Sisters - Jens Garden
Located at 403 E Hood Avenue in Sisters, Jens Garden serves a delicious French cuisine and is a perfect destination for a romantic dinner or special occasion.
Madras - Rio Distinctive Mexican Food
Yes there are a lot of Mexican Food restaurants in Central Oregon but Rio is one of the best because, they serve authentic favorites like tacos and enchiladas while going the extra mile to serve delicious dishes which have an awesome presentation and taste wonderful.
Rio is located at 221 SE 5th Street in Madras and is open from 11:00 am to 8:00 pm daily.
Redmond - Oishi Japanese Restaurant
If you love sushi, or are a fan of Japanese food in general, you owe it to yourself to visit Oishi in Redmond. They are located at 511 SW 6th Street and are open until 10:00 pm Monday through Friday.
Bend – Spork
It's one of Bend's most popular restaurants and for good reason; Spork serves a great menu which features Mexican and Asian food which is made with the freshest local ingredients. They are located at 937 NW Newport Ave #120 in Bend; if you come here be sure to get to Spork before the dinner rush since this is a very popular restaurant. Spork closes at 9:00 pm (Sunday through Wednesday) and 10:00 pm (Thursday through Saturday).
Get More Local Tips Here
To learn more about the best places to eat in Central Oregon, or to view homes for sale across the region, contact me, Lynn Johns, Principal Broker with Central Oregon Resort Realty by calling me at (541) 408-2944 or click here to contact me through my website.